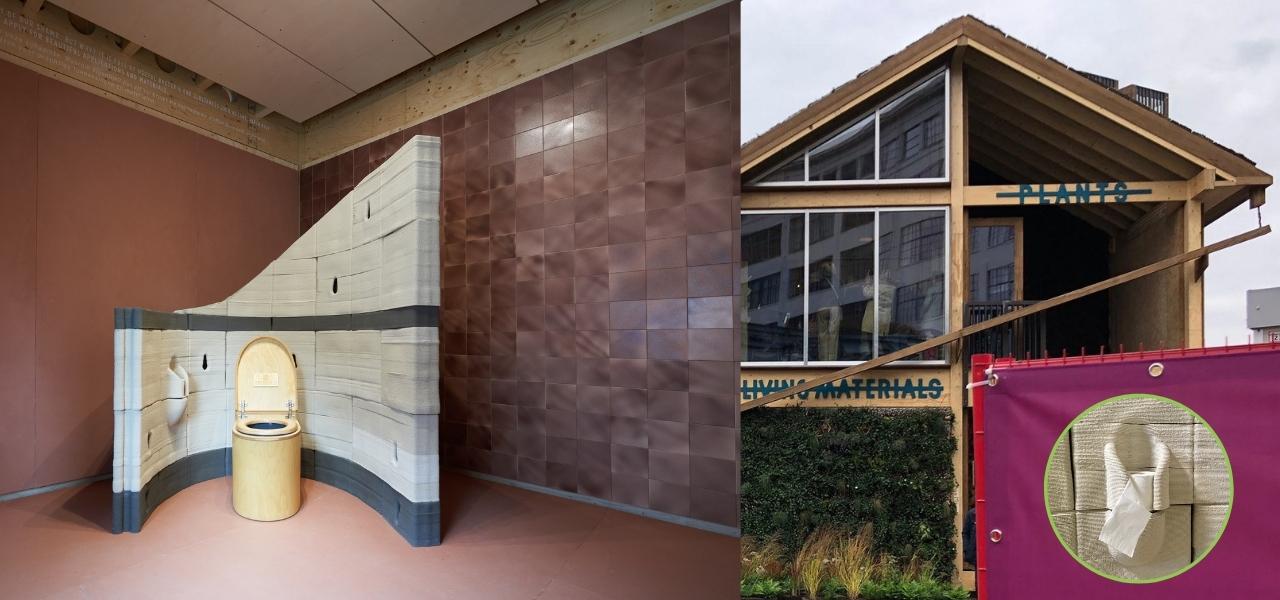 A touch of Recell at the Floriade in Almere
– The Exploded View Beyond Building:
more than a
biobased en circular house
From April 14th to October 9th 2022 you can visit the Floriade Expo 2022 in Almere. This event only takes place once every ten years and is definitely worth a visit! Within the theme Growing Green Cities, the Floriade presents a wide range of solutions needed to make cities greener, healthier and more fun. About 400 national and international exhibitors show innovative inventions, solutions and applications. In this flowery and inspiring environment you will also find 'The Exploded View Beyond Building'. A circular and biobased house, with a touch of Recell®…
The Exploded View Beyond Building is an iconic installation by New Heroes. A company with a mission: to revalue what is of value. The Exploded View is a full size home. A 'living lab' that is fully circular and constructed from biobased materials. The installation was created in a unique way through extensive collaboration and ongoing open source research with knowledge partners from very diverse backgrounds: builders, producers, farmers, scientists, designers, knowledge institutes, storytellers and artists. So add the Floriade to your calendar and go see this special house!
Omlab and Recell®
In The Exploded View, visitors can see and experience what already is possible with the current state of technology and knowledge. That innovations are also feasible, scalable and affordable. And that this way of working and thinking is healthier for people and the world in which we live than traditional construction. A good example of such an innovation is the wall of 'Restroom Number Two' in this house of the future. Omlab developed a 3D printing paste for this purpose, which includes tertiary cellulose from Recell. The material has the properties of clay. Is environmentally friendly, constructive, strong as a gypsum concrete block, biodegradable and regenerable. The paste is suitable for 3D printers, but also for extrusion and pressing.
Tertiary cellulose
Recell recovers unused cellulose from complex residual flows with a cellulose component. For example, the Recell® in Omlab's 3D paste is recovered from toilet paper from a sewage treatment plant. This material is thoroughly purified before we process it into tertiary cellulose. The application of Recell® Compose in the 3D printing paste, together with the other biobased ingredients, ensures a circular, constructively strong and multi-usable material.
Recell® Compose
Recell® Compose has a wide range of applications. In addition to being an ingredient for 3D printing paste, injection molding and extrusion, it is also a valuable raw material for biocomposites. In the construction sector, but also, for example, in the automotive and agricultural industry. Biocomposites with Recell® Compose have intrinsically better and more sustainable material properties. It also contributes to a significant reduction in the carbon footprint.
Greening business chains
Cellulose from various complex residual flows is unfortunately still often incinerated; Recell can, however, use this cellulose for green business chains. This provides attractive benefits for the owners of these residual flows. They not only save on the costs of waste processing. They can also significantly reduce their company's CO2 footprint: with 1 tonne of Recell applied, you save no less than 2 tonnes of CO2. Putting the recovered and reprocessed cellulose back on the market also creates an interesting business case.
In The Exploded View Beyond Building at de Floriade you will come across another application of Recell®. We will be happy to tell you more about the beautiful biobased facade panels that NPSP has developed some time soon.
Would you like to know more about Recell®?
Are you curious about these or other application possibilities of Recell® Compose? Send us a message via our contact page and we'll be happy to tell you more!
(c) Photo's: Omlab and about.today