CONSIOUSLY BUILDING WITH BIOCOMPOSITES?
BUILD with the
RECELL COMPOSE ADDITIVE!
Never before has it been so easy to massively reduce CO2 emissions in construction projects. How? By choosing products that incorporate Recell Compose. Many traditional plastics are perfectly replaceable by a biocomposite made up of Recell® and bioplastics such as PHA or PLA, for example. By mixing PHA or PLA with cellulose, a strong and fully biobased composite with an exceptionally low ECI (Environmental Cost Indicator) is created. With 1 ton of applied Recell, you save as much as 2 tons of CO2!
Recell® is derived from cellulose-containing waste streams that would otherwise end up in the incinerators of waste processors. This is how we turn something worthless into something valuable. Virtually all waste streams with a cellulose component are eligible for cellulose recovery. We call this previously dumped or burned cellulose 'tertiary cellulose'. We upgrade this tertiary cellulose into Recell®, a unique (semi-)product with a multitude of possibilities for sustainable applications. Recell® is available as fibers, granules or pellets.
Endless possibilities in combination with bioplastics
Biocomposites with Recell Compose can be produced in every conceivable form. The material lends itself extremely well to extrusion and 3D printing, offering unlimited possibilities. Do you want rectangular shapes, such as facade panels and buoy boards? Or do you go for complex shapes with staggered heights? And if a circular wall is on your wish list: that too is possible! Good to know: beautiful developments are also going on in the field of color, with dyes that are just as 'green' as the rest of the biobased product. In short: biocomposites with Recell Compose fit into any – sustainable – building design!

Saving and sustainability
Furthermore, Recell Compose is a smart choice in light of the rising raw material prices, not to mention the shortage of those materials… We produce Recell Compose from residual streams. It requires neither new (fossil) raw materials nor expensive agricultural land to grow them. Moreover, we can produce the tertiary cellulose regionally and thus keep transport costs low. All factors that will lead to substantial savings. And at the same time, you can focus on sustainability. Because of the super-low ECI of Recell® (0.004), you get an end product that optimally complies with the environmental performance of buildings (EPB).
Showcasing the Recell biocomposites   
From the modern and well-equipped Recell laboratories, our RD&I department collaborates closely with multiple innovative partners. Each with its own specialty and its own product line. Especially for the architecture and construction sector, we will highlight two products containing Recell®: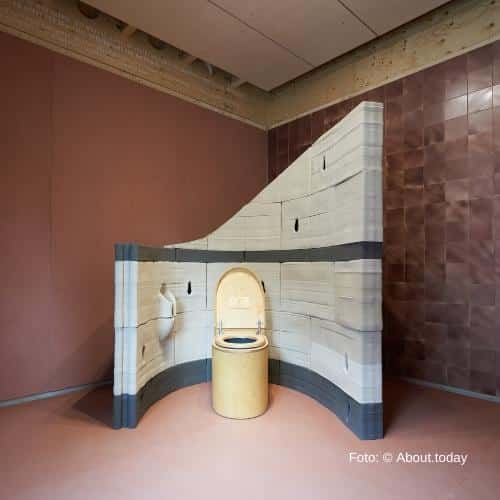 OMatterials by Omlab, futureproof alternative for 3d constructive printing
Omlab is exploring circular, tertiary raw materials from sewage treatment and drinking water production, including Recell's tertiary cellulose. Their 'BuildMatterial' are stackable 3D printed building blocks, as strong as plaster blocks. The product has been nominated for the Jan Terlouw Innovation Award 2022! Omlab uses the tertiary raw materials calcite, Kaumera and Recell cellulose. The primary biobased raw material is alginate. With these ingredients and water, Omlab is developing a variant for sustainable concrete: environmentally friendly, constructive, biodegradable and regenerable. And without fossil minerals or chemical additives. All in all good for a significant CO2 reduction. The 3D printed wall in the photo can be admired in The Exploded View Beyond Building. This "house of the future" was on display at DDW2021 and Floriade Expo. Spring 2023 it will be at Kamp C in Antwerp.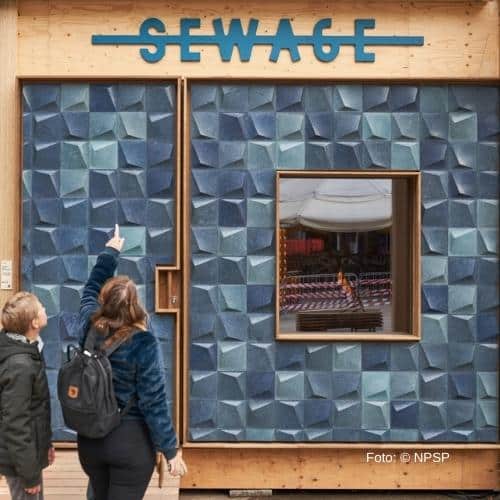 Strong, stable and minimal maintenance biocomposites by NPSP
NPSP develops and supplies innovative environmentally friendly composite materials and products for public spaces, construction, design and mobility. Thanks to high-tech production technology, a number of beautiful solutions have emerged from this in biobased composites. Such as NABASCO® 8010: a strong, dimensionally stable and light material in which Recell® is incorporated. This material lends itself perfectly to this beautiful design facade (photo). This cladding by NPSP can also be found in The Exploded View.
Building greener?
Are you working in architecture or construction, and would you like to contribute (even more) to sustainable building? Let's make a solid business case together with greening your project or product. Or would you first like to read more about the possibilities of Recell Compose? The choice is yours!