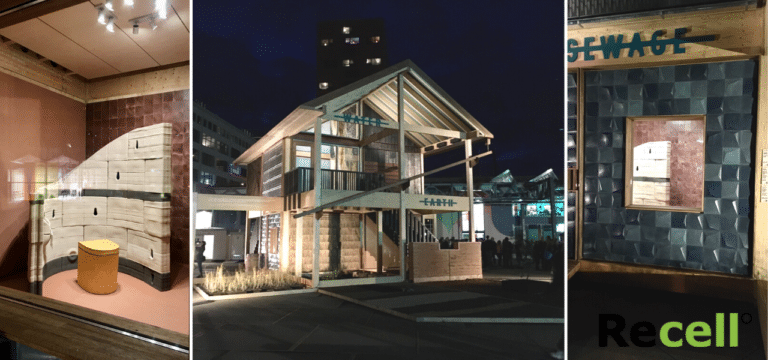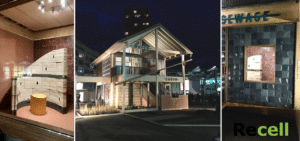 Dutch Design week 2021: The time of sustainable building is now
The Dutch Design week takes over Eindhoven for 9-days (the 16th to 24th of october). But this year promises to be even better than last year. The Exploded View Beyond building is on display at the Ketelhuisplein in Eindhoven. The design by Biobased Creations is a life size house made with more than 80 different sustainable construction materials. And to answer your question, of course this also includes Recell!
Like the Nabasco 8010 facade with 3D panels that contain 30% Recell. The panels designed by Frank Bleeker, Pascal Leboucq and Ruben Bus consist mostly of natural residual streams. The tiles are produced by NPSP in such a way that they are strong, shape-retaining, light of weight and require minimal maintenance in their long lifespan. The tiles in The Exploded View Beyond Building are not only sustainable, they are also stunning to look at!
Besides the panels, Recell can also be found in the 3D printed environmental friendly building blocks. Recell is one of the materials in the print paste of Omlab. With the building blocks a life scale restroom has been built that can be found under the name of Restroom number 2. Restroom number 1 was showcased the previous year, but Restroom number 2 is four times bigger than the first one, how amazing. Besides the restroom of The Exploded View, Omlab's paste with Recell is also used in restroom number 1 and the Maacq Oase. Both can be viewed at the Dutch design week.
The Dutch Design week again shows the versatility of Recell. The time of circular and biobased building is here. And it is here to stay! Watch The Exploded View Beyond Building on ketelhuisplein in Eindhoven this week.
Do you want to know more about the application of Recell Compose in building? Contact us on our contact page!
Photo's by Omlab