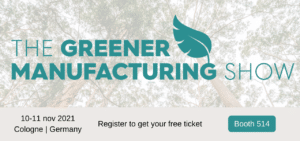 Recell introduces Cellulose 3.0 at the Greener Manufacturing Show
Recell's cellulose is the first and unique third generation cellulose. This Cellulose 3.0 is soon to be the first cellulose supplied with tradable CO₂ certificates. This news has yet to be spread. Therefore Recell Group decided to go international and introduce Cellulose 3.0 during the Greener Manufacturing Show and it's conference. This trade fair and conference take place from the 10th of november until the 11th of november 2021 in Keulen, Germany.
Chemport pavillion, chemical candy box
The trade fair is combined with the 'Plastic Free World' trade fair and conference. Recell will be a relevant stop for both trade fairs. Our stand can be found at the Chemport pavilion at the Greener Manufacturing show. Multiple companies and organizations are found here, all making a substantial contribution in the new raw materials economy. Visitors will be inspired and will see new business cases. The pavilion is expected to become a real treat to the gourmet of innovation and exciting opportunities. Recell Group will be represented at the trade fair by Edwin Loman, Erik Pijlman and Robbert-Jan Knoppers. The Chempost pavilion can be found at the center of the trade fair at stand number 514.
Future proof business cases
Recell's Cellulose 3.0 has the characteristics of a CO₂ footprint close to 0. Replacing raw materials with Cellulose 3.0 does not only lower the CO₂ footprint, but also gives you tradable CO₂ certificates. Recell's R&D adds characteristics that make a circulair raw material that is extremely suitable for applications in chemistry, infra and construction. The price makes the business case both future proof and economically viable. Recell's knowledge of the market and Cellvation's winning technology offer massive opportunities for owners of residual streams with cellulose. Which company does not want to lower their waste(costs), sell their waste flow as raw materials, better their CO₂ footprint and get CO₂ certificates in the process?
Who will?
Erik Pijlman, CEO of Recell Group: 'We are convinced that with this new generation of cellulose we can present a new and solid business case to the chemical, infrastructure and construction sectors. We are therefore looking forward to all discussions in Cologne in which we can present these opportunities, to further explore them together. I expect both owners of complex residual streams and producers in the Chemport pavilion. Together we can make the 10th and 11th of November as the base of change. Because if we won't do it together.. Who will?'
Register for free!