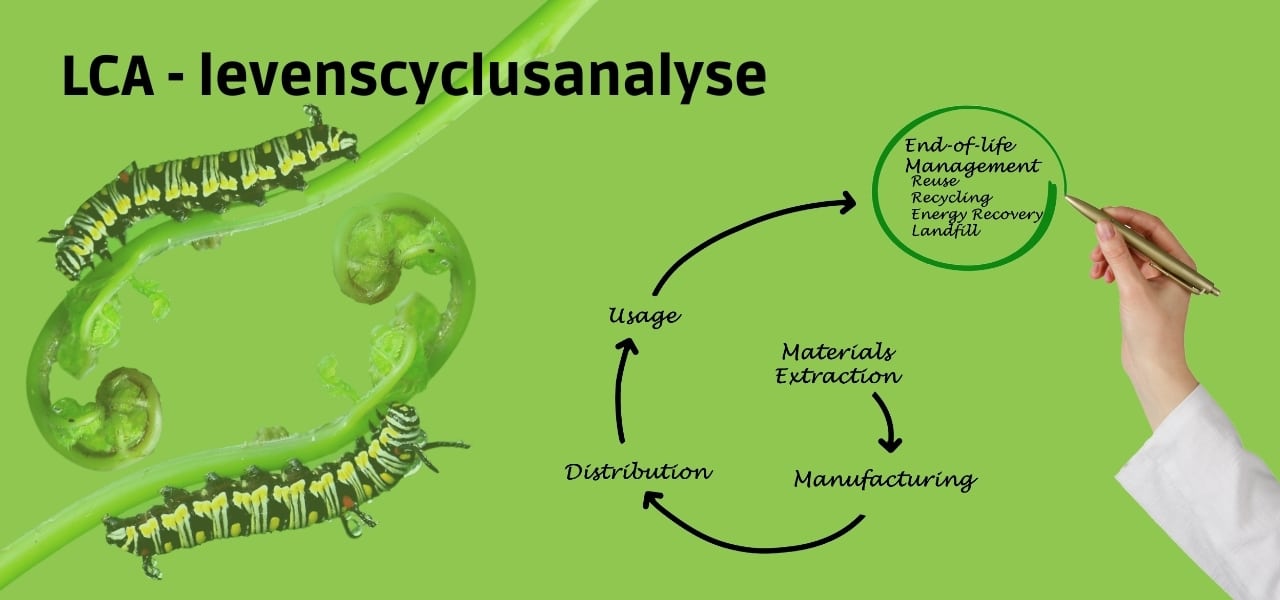 LCA – what do you gain with it?
And what does recycled cellulose do for the LCA of your product?
– At Recell Group, we can calculate exactly the environmental impact of cellulosic products using internationally recognized LCA software. LCA stands for life cycle analysis. That word alone is pretty challenging. Let alone such an analysis. It's complex matter, especially if you don't deal with it regularly. In this blog we will try to explain what LCA is, what its purpose is and what advantages there can be in having such an analysis done. In short: what can you gain?
An LCA always results in a report with a lot of figures and percentages. However, in this LCA story we will keep away from complicated tables.
What is LCA?
Let's start at the beginning. LCA is the abbreviation for 'life cycle analysis'. If you have this analysis done, you know what the environmental impact of your product (or service) is. With the analysis, you consider the entire process required for the realization of a product: from raw materials, production, transport and use to waste processing. And the energy that is required. Not only the CO2 emission is important, also aspects such as acidification or eutrophication have an impact. Using conversion factors, a so-called ECI (environmental cost indicator) is produced. This is an amount in euros.
Recognized software is needed to determine an LCA. This software must comply with a number of ISO standards, including ISO 14040:2006. This Nen standard specifies how environmental audits and reports must be carried out. If your LCA is carried out using recognized software, you can be sure that the figures are correct. And that you can enter the market with an honest story.
How does it work?
For an LCA the producer provides data: 
which raw materials

how much and what kind of energy is involved in the production

what kind of packaging has been chosen

which transport 

et cetera. 
Based on this input, we perform the analysis. An LCA to calculate the ECI (environmental cost indicator) results in a report with figures that clearly show where the profit can be found for your company. The ECI summarizes all environmental impacts in one score and is expressed in euros. The lower the ECI, the more sustainable.
Although the result is a number in euros, in this case "profit" is not necessarily about price. The profit also lies in the fact that you get an insight into the impact your product has on the environment. Even broken down into the components of your process, or on the basis of the raw materials you use. And having insight makes it easier to make choices. Is your product really good for the environment and climate, or can you make it (even) better and more sustainable? Perhaps there is a possible packaging with less environmental impact, or a different form of transport. Or maybe you can get your raw materials from closer by or choose a bio-based alternative? Or is the impact mainly in the use phase and do you mainly gain by improving energy consumption?
Did you already invest a lot of time and energy in developing a sustainable product? Then a low ECI is proof of that. And that goes with advantages. For example, in contracts or because your product gets a better sustainability label.
What do we do at Recell?
At Recell we have three different classes for performing an LCA, subdivided according to the number of production processes and the number of raw materials required for them. We do the analysis primarily for customers who manufacture products that also use Recell®. But we're not a butcher inspecting his own meat! The LCA reports we draw up are always verified by an independent expert party.
We have the data included in the National Environmental Database, so they can serve as a basis for construction calculations and for generating solutions that have less environmental impact.
What about Recell® as a raw material?
Recell® is produced on the basis of tertiary cellulose, recovered from residual flows that would otherwise have been burned. The origin of this cellulose makes no difference: whether it is recovered from sewage treatment plants or from, for example, used pizza boxes is irrelevant.
Recovering the cellulose is still part of the previous life cycle (waste disposal). From the moment the material acquires (renewed) economic value, the use of the raw material Recell® begins with an emission of 0. Later, the environmental impact of packaging material, energy and transport, among other things, come into play. Are new products made with Recell® in combination with other raw materials? Then it's good to know that replacing traditional raw materials – often fossil-based with a higher environmental impact – with Recell®, has a very positive effect on the ECI of that new product.
We have already used Recell® successfully in (electric fencing), (street) furniture, building materials such as cladding, 3D printing paste and tree protectors.
What are the benefits for you?
If you want to know what the environmental impact of your product or service is, a focus analysis can help you make choices. For example, in choosing alternative raw materials, another supplier, another type or less of packaging, another way of transport, you name it. Just a few knobs you might turn to lower the environmental impact of the product.
Benefits for the environment and the company
Improving the environmental impact is of course great. For the environment, for the climate, for future generations. Very nice for the idealists among us, you may think. However, you also know that changes in your process will (in the first instance) cost money.
But when you look a little further? Your company is more than your product or service. It is also about what you radiate, about the image of your business. More and more customers – both private and B2B – are weighing up how sustainably a company operates before they decide to do business with it. Just as customers in a supermarket increasingly opt for a product with an eco-label. With a favorable outcome of the LCA you are a wheel length ahead of the pack.
Do you work for governments and participate in tenders? Then an LCA report is already a requirement these days. Municipalities, provinces, national government, contractors and producers can use this – in the context of sustainable procurement for construction and infrastructure projects, for example – to choose a sustainable product. If your product has a low ECI, this gives you an advantage when you participate in a tender.
Advantage for personnel
A good environmental image can also help to attract personnel. More and more (future) employees are taking an employer's sustainability ambition into account when applying for a job. And to your current staff, working more sustainably provides a common goal, something you want to achieve together. You can therefore also use an LCA in this area to show that you are dealing with the environment and climate consciously. So with one and the same LCA you win on several fronts!
If you want to know more
Do you miss any information or do you want to talk about an LCA for your product? Leave a message on our contact page. We will get in touch with you.