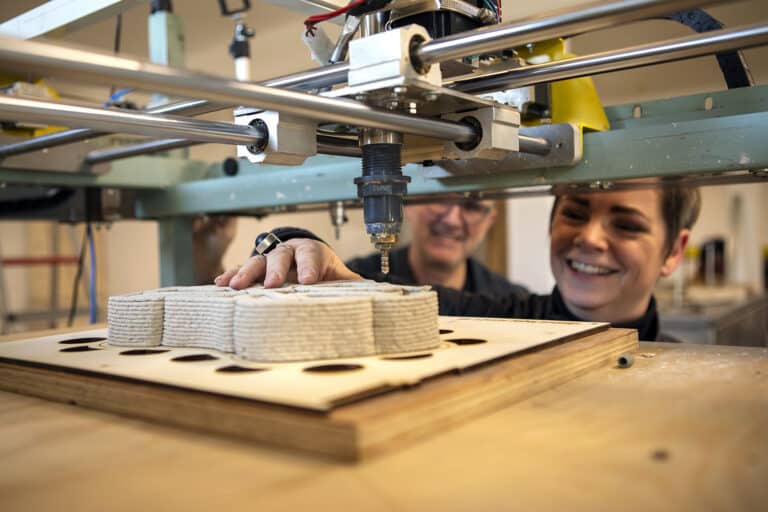 Margreet van Uffelen, Omlab:
"Value for construction and nature using materials that are already in circulation"
One of the companies that work with Recell® as a raw material is Omlab. Omlab is a circular biobased studio that explores, designs and creates with 100% respect for nature. Omlab is convinced that construction, soil and biodiversity should form a trinity. In short, it is a company with which we are happy to work with. An interview with Margreet van Uffelen, co-founder of Omlab along with Huub Looze, about the how and why and the aims of their work.
Just like many companies that work towards a circular bio-based economy, Omlab is still relatively young. Margreet van Uffelen and Huub Looze started the company at the end of 2019. "In 2016, we organized a project together for the first time in Biobased City Bergen op Zoom: a biobased pop-up & grow store." The duo was responsible for design, curation, organization, and storytelling. The pop-up store showcased a wide range of products, from potato starch dishcloths to composite skateboards and racing bikes, all made from renewable resources. The goal was to make 'biobased' known and accessible to a broad audience.
 "This is where the idea for Omlab grew. We wanted to create a place where designers, policymakers, and anyone else could go for expertise and to make their own projects biobased. A breeding ground that eventually grew into a nursery where we now develop our own circular materials."
Research and sharing knowledge
They found a building on an old military site in Arnhem that they transformed into a living and working space. "Here we come up with ideas, try things out, make a mixture, print with it. That's how we keep building. And we do it together with others. Sometimes we research together with a company, a colleague designer or research institution, sometimes it's a designer who wants to learn how to print with their material. Then it's about improving the mixture and mastering the printing technique. The next time it's policymakers or junior architects who want to know more about the possibilities of biobased materials. 
At times, materials are not yet very structural. Then we look at how a designer or architect can play a role in still applying the material." In this way, Omlab is both a design studio that develops its own materials ("we are strong in material research") and a partner to further the story of reused and plant-based resources for construction and infrastructure. "This can be literally in lectures and knowledge sharing, but we also participate in the research of others. So that we contribute to their material, product, or knowledge."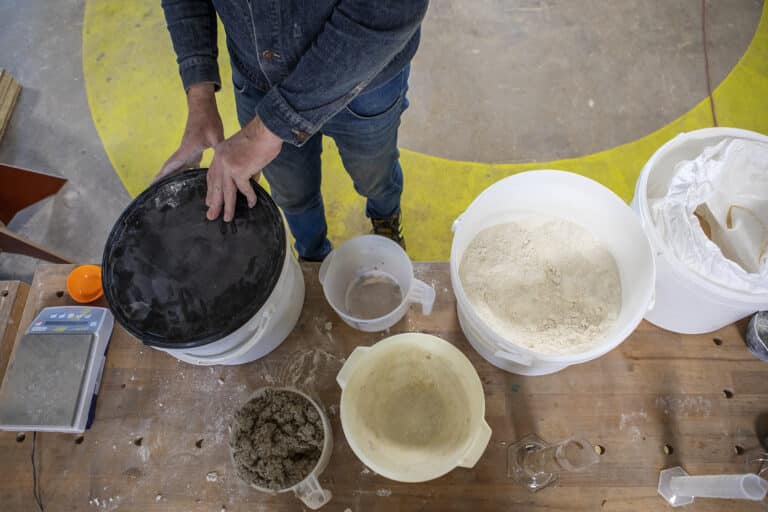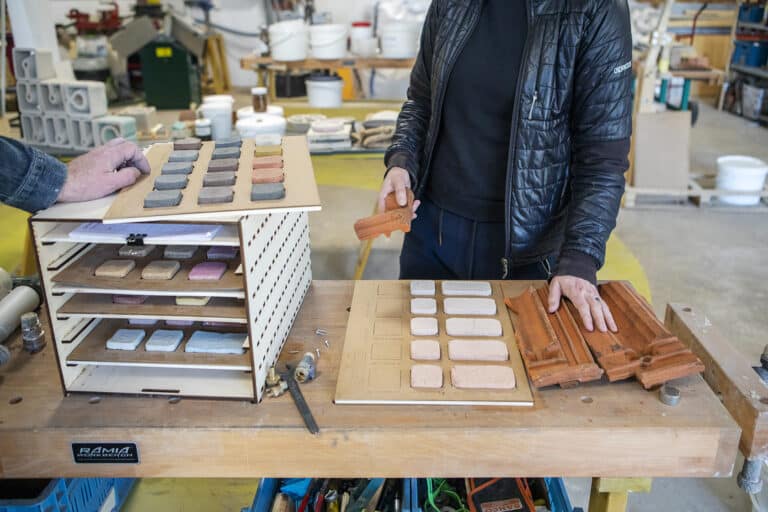 Climate change as a catalyst
"Climate change is already very far along. Together, we need to bring about a shift. In this, we feel like part of a larger whole, both in construction – with Gideon – and climate activism – up to and including the True Price movement. The real price of things, which in our view actually represents everything that needs to change. Polluters should pay for what they do – think aviation, construction, etc. – and then you get a completely different story. Do you invest your money in CO2 storage, or do you work towards reducing emissions by using other products? Billions are going towards the fossil fuel industry, but unfortunately much less towards climate solutions."
Omlab and Recell®
Omlab started with virgin materials that were easily accessible through web shops. "As a proof of concept that it was possible, but in the beginning of 2020 we did not have immediate access to circular materials. The first prints were white, with chalk from a French quarry, new cellulose, and a binder. The goal was to replace every material with a circular one. That bar is set very high. Thanks to the water authorities, we quickly got in touch with the right parties. That's when we started to replace new cellulose with circular." The recycled content in Omlab's prints is now at 98%, the rest is new biobased material. Omlab is working to make those last percentages circular or from a more local plant-based source.
In the printing material, Recell's tertiary cellulose serves as reinforcement, similar to the steel in reinforced concrete. "Our idea was: we should be able to add value to construction and contribute to the necessary change with the waste streams that are already in the market." 
Attending the opening of the Kaumera factory in Zutphen at the end of 2019 fueled the idea that what Omlab was doing had to be on a larger scale. "It has always been our conviction that there is already so much material in circulation that you don't need to add new material to it. For construction, we need to be able to demonstrate that the material can be made strong and has value. Value because you save material, for example, or because you use circular raw materials. That's what we create examples for and start collaborations for."
Paper with experience
For the materials that Omlab produces, they now have proven recipes. "We can guarantee the quality because we know the composition of the raw materials. We now know that Recell® from residual flows of sewage treatment plants is better suited for us than if it comes from a paper stream, for example. A partner once jokingly said, 'paper from the sewage treatment plant has more experience'."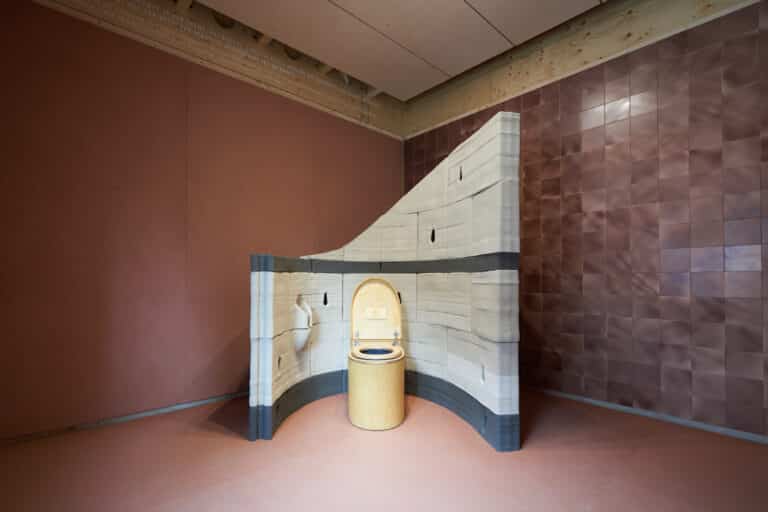 Built environment
The studio develops sustainable building modules and birdhouses without concrete, among other things. Omlab focuses on the built environment. "Architects, builders, contractors in construction and infrastructure. We work with 100% respect for nature. We do not disturb the earth to harvest raw materials, which is good for biodiversity. And we ensure that our process is as energy-friendly and material-saving as possible. In addition, the applications for the outdoors must also give something back to nature."
Material already in circulation
3D printing is very important for Omlab because they work with "poor" waste streams. "With what is happening now in terms of climate change, we must do everything we can to design and make with the material that is already in circulation! From this, we develop low-emission prototypes and develop further."
"Our materials resemble clay but have different properties when it dries. It requires smart technology and good design. With concrete, for example, you can print a shape and it will stand; it hardens while you print. We work without minerals, fossil raw materials or chemistry. So we absolutely do not add concrete or cement. With smart designs and high-quality technology such as 3D printing, we can do that well." Omlab's modules are as strong as plasterboard (C8 in concrete strength classifications), and the studio will soon be testing material that is likely to be twice as strong.
Contributing to change is the impact that Omlab is aiming for. Therefore, Omlab is investigating whether the infra-modules can also be industrially produced together with a concrete company, a road builder, and a municipality. "Scaling up involves high costs. Then you have to know if it is feasible. In our workshop, we first develop on a small scale, conduct tests, and work towards a concrete demo on location."
Building biodiversity
Together with its partners, Omlab has developed various materials: BuildMatterial and ItBetterMatter. "BuildMatterial (nominated for the Jan Terlouw Innovation Ambition Award 2022) is really intended for construction. Together with the innovative development construction company Bruil, we are further developing this for indoor applications. We've already come a long way with this. In addition, we are researching Building Biodiversity. How can biodegradable materials for construction and infrastructure benefit (urban) biodiversity?"
"We presented this research for the first time at the Dutch Design Week 2022. We do this by making clear choices in the origin of the raw materials, production, use, and end-of-life. The start is, therefore: not harvesting the material in large excavations in France or elsewhere. The applications must give something back to nature. This research also creates a material library with various examples." The goal of the research is to replace a part of the concrete and plastic with nature-friendly applications in the built environment.
The impatient client
For companies like Omlab, it is still a struggle against linear construction methods. "But there are new calculation methods in development, so there is movement. What we need is an impatient client who wants to innovate now. But who, on the other hand, has the time to think along with us, test, and make demands. To develop a product together. We are convinced that the innovators of construction will be able to find us."
Photo credits: Foto's Omlab: Suzanne Valkenburg. Photo 3D-geprined wall: about.today.
More information on Recell®
Would you like to know more about Recell®? In addition to the residual streams from sewage treatment plants, Recell also uses other complex residual streams that contain cellulose. If you would like to learn more about the possibilities of Recell®, please leave a message and we will contact you soon.