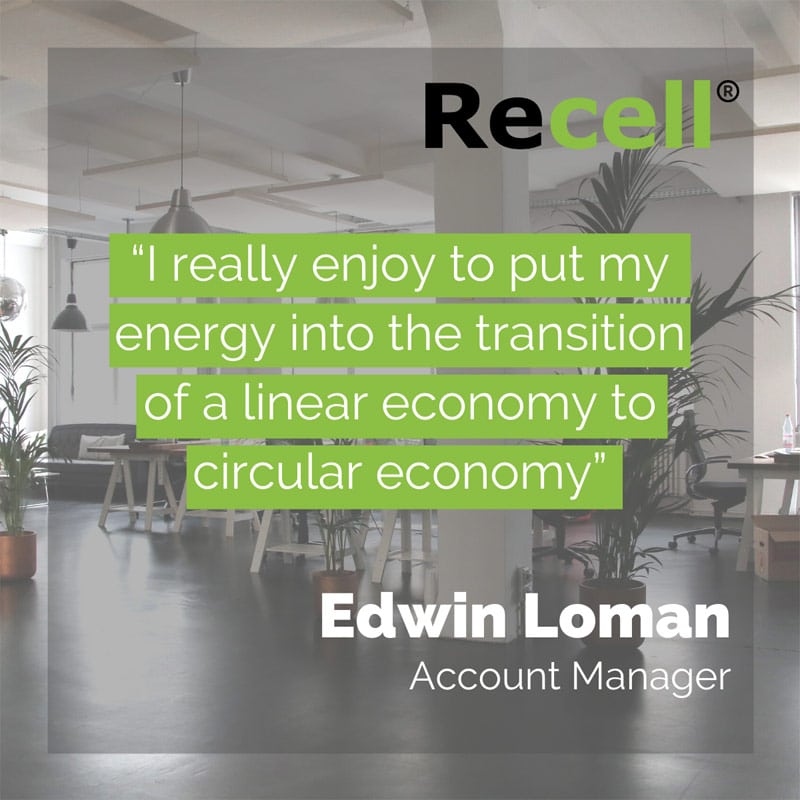 Meet… Edwin Loman!
Edwin Loman joined the Recell® team about a year and a half ago. Since then, this whirlwind has been unstoppable as one of our first customer contacts. Do you want to know if Recell® can be applied in your product? Do you want to prevent that your cellulose rich stream becomes a wasted opportunity? Then Edwin is the person to call!
"My name is Edwin Loman and since December 2019, I have been working as Account Manager at Recell Group B.V. At one of my previous employers I grew an interest in sustainability and the circular economy and so I started looking for a company where I could put all my energy into the transition from the linear economy to a circular economy. These are two concepts that are becoming more and more common, but also more and more important if we want to be able to enjoy this earth for longer.
In my opinion every person can add to a better living environment for now and for our children. At home I try to teach my children to separate their waste as best as possible. To ensure that the residual streams are cleaner and therefore easier to recycle and use as renewable materials.
With Recell, I'm trying to contribute to this by recovering cellulose from residual streams and to upgrade it to a fully fledged, sustainable raw material, namely tertiary cellulose. Of course, I don't do this alone, but I can count on the support of a great team. They all have the mission to be more sustainable and to deal with residual streams in a different way. The application of our raw material is broad and ranges from Infra, construction industry and a bio composite for the plastic processing industry to the chemical industry." – Edwin Loman
Would you like to meet Edwin, or learn more about Recell®?
Please contact Edwin on 06-30852634 or via e.loman@recell.eu.