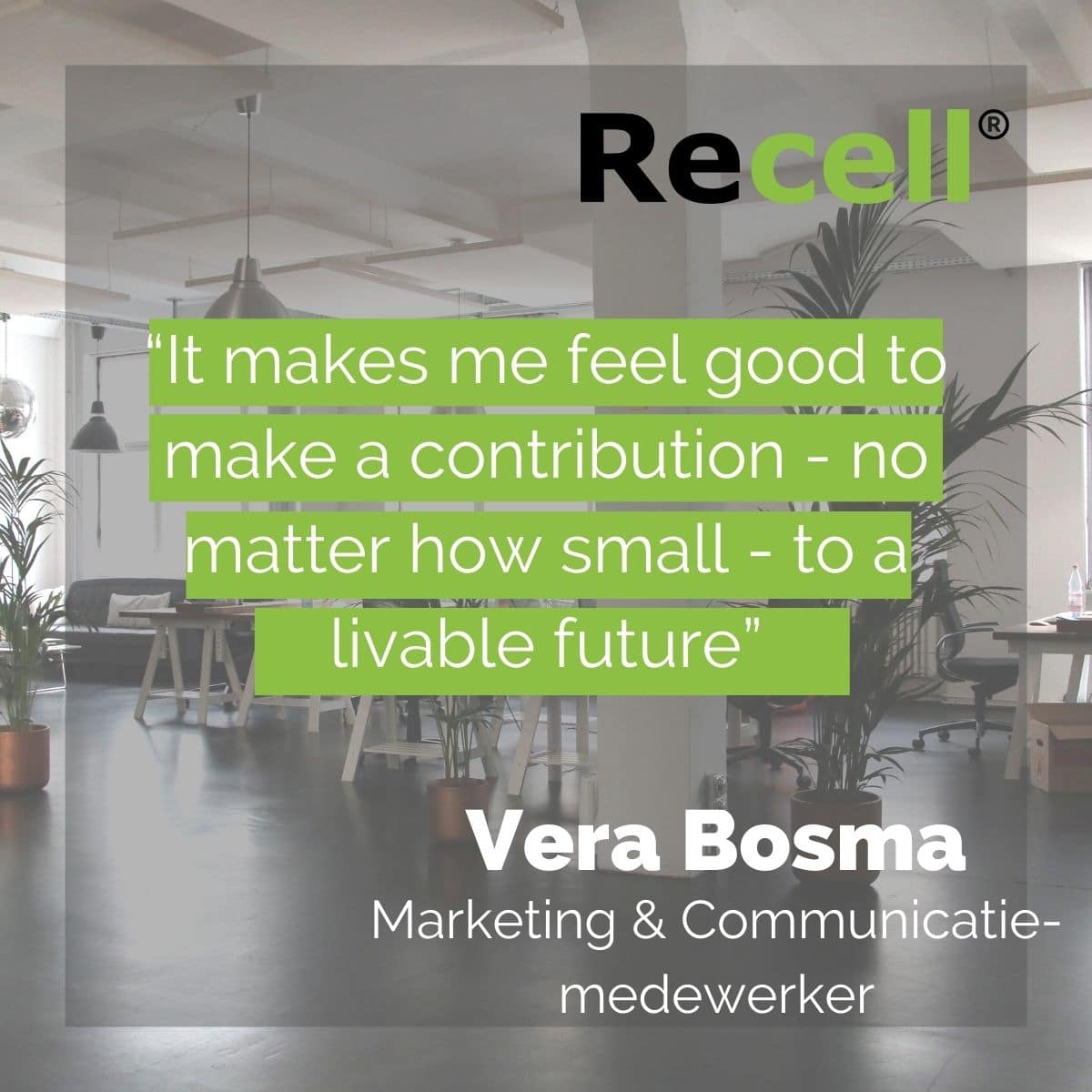 Meet… Vera Bosma!
Vera joined our marketing team this October, team Recell's new marketing- and communication employee. Here she will keep our online media channels and website up-to-date. Besides that she also works on the text and format of offline communication, like brochures, leaflets, mailings etc. Together with the marketing team she creates content for our marketing and communication plans.
Sustainability
"Sustainability has been taught to me from a young age. Even in my younger years a better environment started with myself. It has surprised me, even made me sad, that so little progress has been achieved in recent decades. That even despite many great initiatives and developments, it only has gotten worse instead of better. Fortunately, more and more people around the world realize that if nothing is done now, it might be too late tomorrow. I strongly believe that we can still turn the tide, but only if we do it together.
Reducing the CO2-footprint
My work backpack brings experience from various sectors, including construction. Taking care of the communication for companies in the building and construction industry means you cannot avoid learning about the circular economy and reducing the CO2 footprint. And take it from me: great things are happening in that area! Recell Group is one of the companies that shows how to move forward. Many people discover that there is even more possible than one might think. So I am very happy that as a marketing- and communication employee I have the opportunity to further develop Recell Group together with my colleagues. And hopefully we as a company can put a few stones in the river that makes the stream choose its best path.
Make a difference
At Recell Group we work with regained cellulose from residual streams to lower CO2  emissions. Our technical colleagues use this to create applications for construction, infrastructure and the building sector, among other things. I firmly believe that as part of the whole we can make a difference. It makes me feel good that through my work, I can make a contribution – no matter how small! – to a livable future" – Vera Bosma